Christmas gifts for HER
I have shopped around and found my top ten gifts that will be great for anyone on your shopping list.
My number one tip for choosing a woman's gift is to choose something that doesn't have a size. Women sizing varies so much from person to person and from brand to brand, so purchasing something for someone by size is difficult.
1. Steve Madden
Infinity Scarf
- $38 sale $27.99 (Macy's)
This scarf is perfect. It comes is 6 colors. It can be added to any outfit for the perfect outdoor touch, and it's warm.
2. Tiffany & Co. Return to Tiffany bead bracelet- $125 (Tiffany & Co. store)
You can't go wrong with Tiffany. This bracelet features a Tiffany Blue heart. This is great for someone who is special in your life to let them know how much you care. It is a statement piece that can be worn with anything.
3. DKNY
Rose Gold watch
- rectangle case- $175 (Nordstrom)
Rose Gold is hot this season, mixed with a rectangle case, it gives a new look to a traditional watch. This is perfect for the woman who thinks outside the box and isn't afraid to try new things.
4. Tarte,
The Jewelry Box
- $52 (Sephora)
This year Tarte took their holiday box to a new level by adding jewelry to the packaging that is actually wearable. The quality of the make-up is fantastic. Perfect for the make-up lover on your list.
5. Deluxe
Fragrance sampler
- $50 (Sephora)
What girl doesn't love perfume? With the sampler, they try all the fragrances within, and pick a favorite to get a full size of. You can't go wrong when they get to try them all and choose the one they like the best to get a full size of.
6. Laura Mercier,
Creme de Pistache collection
- $75 (Laura Mercier)
The ultimate skin luxury set. Contains a honey bath, body scrub, souffle and matching candle. Oooh La La!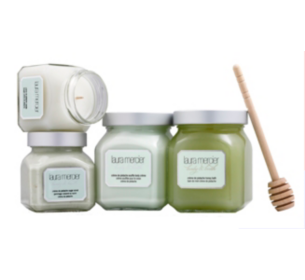 7.
Clarisonic Mia
- $149 (Sephora)
Take it from someone who owns this, you can't go wrong. This is amazing! Every woman likes to have good looking skin. The Clarisonic has proven itself to help every skin type to be cleaner and smoother. Perfect for the woman who has everything.
8. Candles by Victoria
Country Jar Sampler
$45 (Candles By Victoria)
Who doesn't love candles? Candles by Victoria are hand made and fresh poured. There's a large selection of scents to choose from, and with a sampler collection, she's guaranteed to find one she loves.
9. Sigma
Premium
travel make-up brush set- $59 (Sigma Beauty)
This is a great little brush set. High quality without spending a lot of money. Comparable to higher end brushes. Available in 3 colors.
10.
WEN
by Chaz Dean cleansing conditioner set- $34.36 (QVC)
Wen is a new experience in hair cleansing. It's extra gentle and works with all hair types. The sampler allows her to try multiple formula's to find the one that works best for her.
Watch for my top ten Stocking Stuffers coming soon....