Estee Lauder Perfectionist eye patch- Review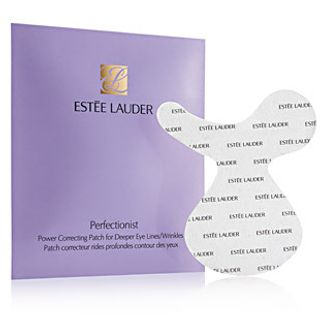 8 pairs
$100
What this is:
An eye patch designed to target eye wrinkles using a bio-peptide formula to boost collage. Lauder claims it is powered by a micro-current of energy. Claims to work in 20 minutes with long term effects after continual use.
How to use it:
Start by opening the single use pouch and removing the eye pads. You will notice an L and an R on the pads for left and right eye. Peel the patch off and apply it one inch under the bottom eyelid, skinny end in. I placed the fat end directly on the area outside the eye where wrinkles are most prominent. Wait 20 minutes and discard.
My thoughts:
These patches are very easy to use, but I'm not sure I would want to dish out $100 periodically to purchase as there are comparable patches out there for a fraction of the cost. If you have sensitive skin like me, you might have a reaction the the glue that sticks them to your face. I experienced constant itching, but no tingling as described on the website. The patches removed easily with no residue left behind. I experienced no redness or negative reaction afterward.
I don't have any wrinkles, so I can't say if they work for that, but I do have beginning signs and loss of firmness under my eyes and I felt it was tighter after removing the patches. I would be interested to see how these work on older skin.
The patches have no scent. They feel cool to the touch. I can feel my skin tightening while they are on my face.
If you have the money to spend and have wrinkles around the eyes, these patches would be worth trying. Be prepared to commit to five days to four weeks in order to achieve the maximum effect.
Estee Lauder never fails to preform when skincare is involved, and these patches are no exception. Shop around and find the best deal, and read reviews before making a commitment to spending so much money on one product. I have read nothing but good reviews on these patches.