March 2013 Inside Q Magazine Info
Not many beauty TSV's this month, thank goodness!
Looks like Wen will have a TSV on March 2.
$59.94 / 8.47 3ezpays $19.98
A233888
3/2 A232791
Kate Somerville March 8.
St. Tropez March 12.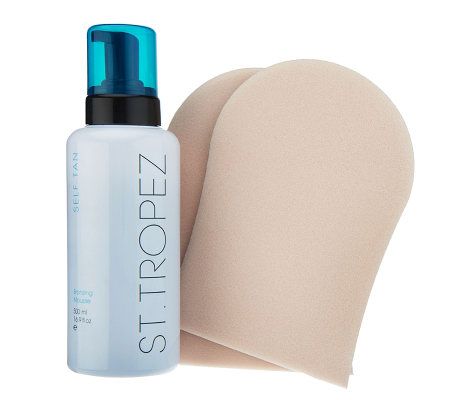 A234660, AD A234670
$49.98
St. Tropez whipped bronze mousse creates an even natural looking tan without streaks. The light formula dries in approx. 60 seconds and proceeds to deepen over the next three hours. Aloe & AHA moisturizers help the formula to be long-lasting and to fade evenly. Use the mitt to ensure a smooth even tan during application. perfect base to self-tan. Receive (1) 16.9 fl oz. Bronzing Mousse and (2) Applicator Mitts. Made in the USA. Mitt Made in the UK
It Cosmetics March 18.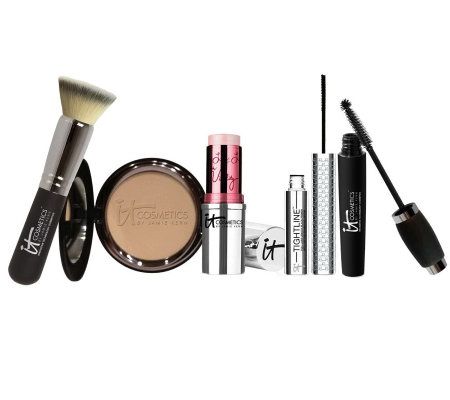 A234665, AD A234890
$54.96
IT Cosmetics Hello Beautiful 5pc Anti-Aging Color Collection.Developed w/leading plastic surgeons & infused w/cutting edge anti-aging technology. TIGHLINE Full Lash Length Black Primer, Vitality Flush Color Stain Stick,Celebration Foundation, Hello Lashes Mascara, HeavenlyLuxe Airbrush Foundation Brush. Choice of Shade:Fair,Light, Medium,Tan or Rich.Rec:(1)0.30 oz Foundation;(1)Foundation Brush, (1) 0.33 fl oz Mascara-Black;(1)0.118 fl oz Tightline Primer-Black(1)0.24 ozVitalitystain stick-Je Ne Sais Quoi(sheer pink). USA/Korea/China.
Beauty Favorites March 22.
British Beauty March 28.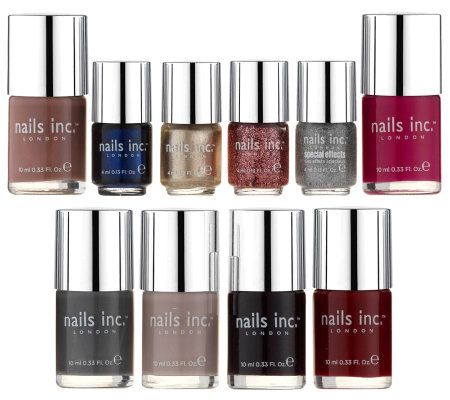 A234821
$32.88
Nails Inc. Best of British 10-piece London Collection. Receive(6)0.33 fl oz each-The Thames(cool grey),Porchester Square(mushroom nude), Jermyn Street(classic taupe),Lower Regent Street(deep cerise pink), Tate(classic red),Great Marlborough Street(deep plum) & (4) .13 fl oz each - Upper Brook Street(deep metallic navy), Westminster Abbey(gold metallic shimmer),Chelsea Square(rose gold glitter),Electric Lane( silver holographic glitter). Made in United Kingdom. Cannot Ship to AK,HI,PR,VI,GUAM.
Philosophy April 6.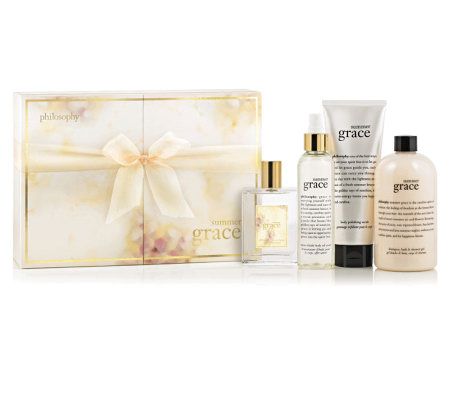 A234666, AD A234891
$79.76
philosophy's satin finish summer fragrance layering collection gives you the unforgettable feeling of summer romance in choice of summer grace or falling in love summer.The warm,bright floral scent of summer grace was created to make a woman feel lighthearted, happy & carefree. Warm, fruity floral scent of falling in love simmer was created to make a woman feel dreamy & romantically playfull. rec:(1) 16 floz shampoo, bath & shower gel,(1)7floz body scrub,(1)5.8floz satin finish oil mist,(1)4floz spray fragrance.USA.cannot ship to AK,HI,PR,VI,Guam.