Hello Gorgeous! Anti-Aging Color Collection- Review
On
March 18
, It Cosmetics will be featuring a new cosmetic collection on QVC called
Hello Gorgeous! Anti-Aging Color Collection
. This collection features five staple pieces that will define and polish your look, while still keeping a youthful appearance.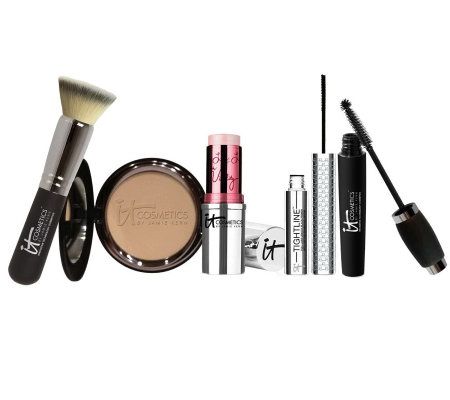 The five pieces include:
1. Celebration Foundation in choice of shade.
2. Heavenly Luxe Buffing Airbrush Foundation Brush.
3. Vitality Flush 4-in-1 Reviver Lip and Cheek Stain Stick. (say that 5 times fast!)
4. Tightline Full Lash Length Black Mascara Primer.
5. Hello Lashes 5-in-1 Mascara.
The total retail value of this collection is $155!!!! For 24 hours only you can get it for $54.96!!!
(Ordering info will be provided at the bottom of this post )
Background Information
The "It" in "It Cosmetics" stands for Innovative Technology. The brands founder, Jamie Kern, works with plastic surgeons to help invent products that solve real problems that women (and men) face on a daily basis. Each product takes years to perfect, and they don't release a product unless it really works. That is what makes this line so special in the Industry. Any brand can put their name on a product and sell it. It takes a special brand to restrain from mass producing, and to patiently wait until a product is perfect.
REVIEW
The Packaging-
The box is classic and sleek like all of It Cosmetics packaging. I enjoy the simplicity and elegance.
Each product is secure in a plastic sleeve.
Packaging
Bottom half of compact holds a sponge applicator.
The top half of the packaging houses the foundation powder and mirror.
The foundation powder is imprinted with "it Cosmetics by Jamie Kern" and also has a thin plastic cover that has to be removed prior to application. The foundation itself looks natural on the skin, not matte. I found the longer I wore it, the better it looked. I would say the coverage is medium, but could be built to a more full coverage if applied with the sponge vs. the brush. The powder buffs beautifully with the foundation brush included and works nicely into the skin without looking like it is laying on the skin. My shade is light medium. The key to looking right is having the right shade. I had tried this foundation once before from a friend and it was not right for me then. I can see myself reaching for this a lot now that it matches me perfectly! I had zero sensitivity to this product and it did not enhance my pores. If you are looking for a nice everyday powder foundation, this one is great.
Packaging
I really liked the presentation of this mascara. The entire tube is covered in a comfortable rubber that feels good in the hands, while the applicator end has an even thicker cushioned grip (similar to those children put on pencils in school). I appreciate the thought that went into this packaging and the consideration of the customer using this mascara. The mascara formula is also great. It Cosmetics claims that the mascara is clinically proven to quadruple the volume of the lashes. The detailer ball at the end is meant to be used vertically for additional volume. I found that I did get nice volume and also nice length from this formula that stayed pliable and soft throughout the day with zero flaking. The brush enabled me to grab every little lash and, applied properly, gave me great lift to my lashes as well. I would say this is a great everyday grab-and-go mascara.
The brush
Vitality Flush 4-in-1 Reviver Lip and Cheek Stain Stick-
Packaging
The product is housed in a mirror finish silver tube. You can see me in the reflection.
The tube is inscribed with the words, "Live Love Laugh with Vitality."
First Swatch
Ten minutes later after "developing"
The Cheek Stick was very hydrating without being tacky. It leaves the skin looking dewy, but not shimmery or sparky, but an adult looking hydrated dew. My lips instantly felt hydrated and took on a sheer bright pink color. I was able to put this on at 8:30 this morning and come home at 2pm and still had color on my lips without dryness. My cheeks did not develop as much color as my lips, but instead took on a healthy sheer wash of pink that looked very youthful. I would love to try other shades!
Tightline Full Lash Length Black Primer-
Packaging
The container is the same mirrored silver as the cheek stick, but has it written all over the longer half in white.
The brush applicator
Tightline is probably the most genius invention from a cosmetic company that I have seen in a long time! It was one of those "duh" products that I wish I would have thought of. Other brands have brushless mascara's, but none of been marketed like this one for tightlining the lashline. The formula is almost like ink. It dries almost instantly and gives an immediate look of fuller lashes. I would say of all of the products in this kit, you must try this one. This is especially great for anyone that has issues with tightlining with a pencil or a brush. It is so easy to tightline with this tiny little brush, you will have wished you had it years ago.
Heavenly Luxe Buffing Airbrush Foundation Brush-
Plastic Sleeve.
Bristles (See me in the reflection again?)
Rubber grip handle
The flat head of this brush contains more than 80,000 luxe hairs!
I know that there are a hundred companies out on the market with flat head foundation buffing brushes. And there are a lot of good ones. This is one of the good ones. If you are looking for an ultra soft buffing brush, this is remarkable. I have two if that says anything, and no I will not be letting either one of them go. I love this brush! Then again, It Cosmetics makes amazing brushes in general!
Before Shot
After
I really feel this collection gives me a more youthful, airbrushed appearance.
I recommend picking up a couple other products with this kit if you want a complete face:
Bye Bye Undereye concealer
- for concealing any spots or blemishes or dark circles prior to foundation application.
Brow Power brow pencil
- A face is not finished until the brows are done!
Vitality Face Disc
- A little bronzer makes a big difference. This disc also has a blush and highlighter.
Order this kit on QVC.com with the following item numbers- A234665, AD A234890
Video Tutorial
Product sent for review... not sponsored.