Mally Beauty- Mally's So Natural Look- Review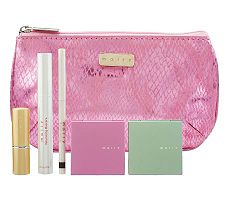 Mally 5-pc So Natural Look Collection
I am a sucker for complete collections, especially easy to use ones. When it comes to Mally Beauty, I like to try just about anything. I watched this collection being presented on QVC, and it looked like a great, grab and go, kind of makeup look that I could slap on quickly without thinking. Of course, I couldn't order it fast enough.
When I know something is coming in the mail, I get this nervous excitement, like a kid at Christmas. This finally came this morning, and I had to use it right away!
What's Included:
Eyeshadow single in Honey
Blush single in Mally's Baby
Liner in Can't Slow Down Brown
Lipstick in French Kiss
Volumizing Mascara
That is 5 full size pieces for only $40, and a cute little bag to carry them in.
Mally's Baby is a satin finish peachy pink that leans more peach on my skin. It is very pigmented and requires only the smallest amount.
Honey is an apricot with a slight sheen. It is also very pigmented. This shade is the perfect almost naked eye, that applies just enough of a sheen to brighten the eyes and draw attention. It is a perfect everyday kind of shade.
French Kiss is a sheer pinky nude. On my lips I detected a tiny bit of a lavender hue that really perked up my complexion. It is very hydrating and feels almost like a gloss. I am a fan!
flash
natural light
The brown liner is smooth and easy to use, with the smallest amount of gold shimmer. The mascara is the infamous award winning formula that everyone loves.
Overall, this kit is a keeper, for sure! I love how the most inexperienced makeup user can easily apply these pieces and look fully finished and put together. The shades work in combination to brighten the complexion, and perk up the skin. These kits are always a great value, and the most economical way to build your collection of Mally products. I highly recommend checking this one out!
*I bought this. Post contains affiliate link.